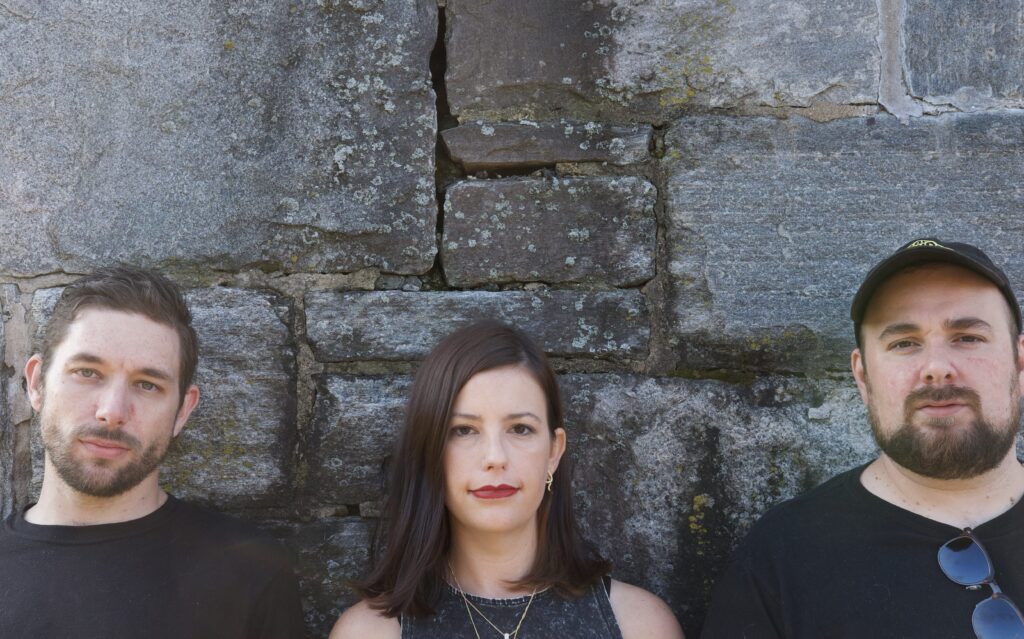 Dr. Martino began as a 6-piece fusion rock band, active in the South Florida music scene between 2011 and 2012. After relocating to Willimantic, Connecticut in 2013, Amy Shaw, Simone Puleo, and Mike Kaminski reformed Dr. Martino as a garage rock power trio. The band quickly began doing shows in the Quiet Corner of Connecticut, finding a welcoming community at Willimantic Records, and branching out to clubs and bars in New London and New Haven.
Dr. Martino released Big Day EP in August 2014, featuring an eclectic array of styles, from the mischievous punk tune "Hollywood Coprophagia" to the vintage rock ballad "Some Kind of Kneelin'." The EP was recorded by Matt Baltrucki at the Hartt School in Hartford, Connecticut. Guitarist and singer Simone Puleo put together a montage video for Hollywood Coprophagia, featuring footage from his favorite childhood videogames. Big Day EP was independently released on CD and cassette.
In 2016, Dr. Martino released Calligrams, a comp with fellow Connecticut artists Spectral Fangs, Terrible Roars and Ghost of Chance through Obscure Me Records. Dr. Martino contributed their cheeky food anthem "Clean Plate Club" and an explosive rock tune, "Anna May," which featured Amy Shaw as lead vocalist. They collaborated with local cartoonist Bill Dougal on an animated video for "Clean Plate Club." Calligrams is available on 12″ vinyl at calligrams.bandcamp.com.
A follow-up EP, Caving In, was released in 2017 by the Telegraph Recording Company in New London, Connecticut. It was tracked and mixed by Matt Baltrucki and mastered by Alan Douches at West West Side Music. The EP features boogie woogie feel-good tunes like "Weekend Shoes" and other more alternative, reflective songs like "Your Garage" and "You Were Around." You can see the self-produced music video for the EP's lead-in track, "Dad's Dead," on youtube.
In 2019, Dr. Martino embarked on their first tour of the northeast with fellow power pop band Big Fang. The tour concluded just as the Covid-19 pandemic began.
In November 2021, Dr. Martino released its first full-length album as a trio, No Outlet, with the Telegraph Recording Company. No Outlet was tracked and mixed by Jason Banta and mastered by Matt Baltrucki. Myemuisemo.com writes that the "thirteen tracks dirty up the best of 1990s modern-rock concepts and deliver them with the exuberance of a thousand bowls of sugary breakfast cereal." The band worked with Chris Hominski to produce a music video for the lead single "When You Want It," shot entirely inside their house during the Covid pandemic quarantine, and a second video for the explosive alt-ballad, "Reruns Featuring Sir Roger Moore," compiled from footage from their first shows after restrictions were lifted.
The band toured once more with Big Fang in July of 2022, bringing their eccentric brand of rock and roll up and down the east coast from Albany, New York to Wilmington, North Carolina.
The band has shared the stage with Surferblood, Downtown Boys, Jeffrey Lewis, THICK, and Bob Log III. They made an appearance at New London's I AM Fest in 2015 with Rubblebucket, And the Kids, Violent Mae, and others. In 2015, they were named New England's Favorite Punk Rock Artist by The Deli Magazine, and in 2017, they were named Best Indie Band in CTNow's Best of Hartford Reader's Poll. Currently, Dr. Martino continues to perform regularly at house shows, divebars, music venues, and festivals in the greater NY/NE area.
martino is people:
Simone Puleo (guitar, bass, vocal), Amy Shaw (bass, guitar, vocal), Michael Kaminski (drums)
hey, we picked these bands to tell you some of the bands we like:
Dead Kennedys, They Might Be Giants, The Ventures, Mr. Bungle, of Montreal, Gentle Giant, Guided by Voices, The Cranberries, Built to Spill, Yes, John Zorn, Slowdive, Speedy Ortiz
reviews:
"With the room sufficiently warm, Dr. Martino — Simone Puleo on guitar, bass, and vocals, Amy Shaw on bass, guitar, and vocals, and Michael Kaminski on drums — arrived with a set of driving songs and a contagious sense of fun. The trio locked in rhythmically to keep everything rushing along, even as they retained a freewheeling edge that suggested, in the best way, that everything was on the verge of chaos." – Brian Slattery, New Haven Independent
"If you've ever called yourself a "Nineties Kid" – or if you're born in 2005 but feel the 1990s are your jam – Dr. Martino's No Outlet is a must-listen. Thirteen tracks dirty up the best of 1990s modern-rock concepts and deliver them with the exuberance of a thousand bowls of sugary breakfast cereal. Yet the tone isn't sweet, thanks to grungy layered strings and lyrics with full of sly details. The result is catchy and hooky, with echoes of retro favorites, a 2020s worldview, and the energy of a crowded, dark club." –myemuisemo.com
"Both writers mine 1960s and '70s styles: surf rock, punk, Southern-fried blues, power-pop, even girl groups. There's some Devo, some Zappa, some Southern Culture on the Skids, maybe some video-game music in there." – Michael Hamad, The Hartford Courant
"These guys do an extremely poppy flavor of surf rock! Super upbeat party rock at it's finest." – Robert Denby, ctindie.com
"Calligrams is certainly something unique and I think that the idea can potentially set a precedent that other underground artists could follow. The notion of combining works to further overall recognition and reception is very smart, and I hope that these four bands continue striving for originality and continue making accessible yet artistic music." – William Morrow, divideandconquermusic.com
"Dr. Martino calls themselves surf and while that might be true, there are a number of other things going on here just as well. Every member of the band takes turns singing and that makes for a most fun experience, and though I expected it might get confusing it most certainly did not. At heart, this can be guitar driven rock n roll, but can also span from Tripping Daisy to Superdrag to Wheatus." – Joshua Macala, raisedbygypsies.com
"realmente un grupo neto de rock estadounidense, que suena como si fueran la mejor banda de su ciudad local, un placer ver que en la prensa del Hartford Courant, un dia como hoy, se refleje un articulo de una banda musical del barrio, del Dr. Martino from Willimantic Connecticut, una banda que a pesar de surgir en la Florida, tiene un sentido de pertenencia bien identificado con el contexto Connectupunkiano, sin resacas imitatibas a lo garage punk rock, un placer conocer a Simone, cantante y guitar leader que cada manana bien early desde mi ventana lo veo compartir un cafe con su amigo Arnab Roy charlando apenas de Judith Butler o Michel Foucault , tal mis amigos en Cuba, y sacarle algunas fotos a Dr. Martino, intentando capturar el increíble y autentico sonido offbeats a lo pop punk que como quien dice fue the other day como si fueran los mismísimos Green Day en una calle lateral del town!!!" – Ernesto René Rodríguez, author